.
Special Hats
For
Special People
and for
Adults, too!






Hat Information
Photo of Fire Truck hat below by James E. Lotz
The hats are made with 100% Acrylic yarn. While I enjoy natural fibers, I find that wool is too itchy for me and most of my customers. While cotton is soft and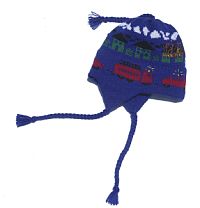 comfortable, it does not provide the warmth that acrylic provides, and tends to loose its shape rather easily. Therefore, I work with acrylic, which provides nearly the same warmth as wool, is comfortable like cotton, and washes easily. Kids find it comfortable, and will actually keep the hats on their heads, which is the ultimate goal.
The Angora that I use on certain hats is imported from France. It is soft and luxurious and adds a special touch to the hat. I offer Angora in white only. The angora yarn requires that you wash it in cold water (machine or hand) and lay it flat to dry.
The hats with earflaps are designed to come down over the ears and make the hat fit snugly over the back of the neck.
The doll hats are popular since most little girls love having their dolls wear the same hats as they do.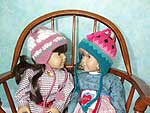 All hats are made right here in my studio. I work only with my own designs. I strive to provide designs that will make the child (or adult!) happy to wear the hat!
If you have any questions about my hats, please visit our "Frequently Asked Questions" (F.A.Q.) page. If you do not find an answer there then send me an E-mail or call me with your question.
To view or purchase any of my hats, please visit my store.

Jan Weaver
H
A
T

I
N
F
O
R
M
A
T
I
O
N
-
-